INDUSTRIAL JOYSTICK WITH FIELD REPLACEABLE SWITCHES
The Control Devices CDJ900 series joystick is available in single (Forward/Back or Left/Right) or multi-axis (North, South, East, West) configurations. The standard model contacts activate at approximately 5° from centre and up to two contacts per axis can be activated.
Multiple contacts can be engaged at the same time (NW, SW, NE, SE). The CDJ900 can be used to control solenoid coils directly, provided the current rating is within the capability of the switches (see data sheet.) Higher current will reduce the life of the switches so we have designed the CDJ900 so the switches are field replaceable.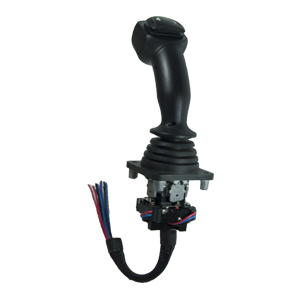 Features
A large number of handle range options are available; please contact your local sales office for options.
Based on a proven design
Excellent feel
Available as Single or Dual Axis
Field replaceable switches
Wide range of handle options
Downloads