CUSTOM ENGINEERING AND MANUFACTURING
Control Devices can provide solutions to meet your man-machine interface needs. We can provide solutions to meet existing requirements by replacing an existing controller that is no longer available or economically viable, or a new concept from design to finish. Our solution will be fit for purpose and designed to be swap out/swap in. We have undertaken projects for defence, industrial, off-shore, marine, forestry and logging industries to name a few.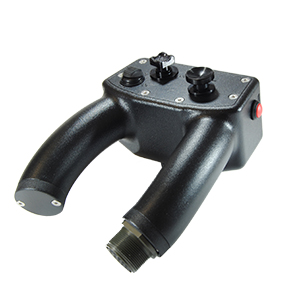 Features
• 3D Cad Modelling: Simulate assembly and provide our customer with an accurate drawing of the final product. Approval before production.
• 3D Rapid Prototyping: We can provide our customers with one-off custom grips or enclosures or use our 3D plastic printer to create real
models prior to mass manufacturing.
• Electronic and PCB: We can design and manufacture with customised electronics. We can provide custom CAN protocols, RS485, USB
and various analogue outputs.
• CNC Machining: We can do custom fittings, engraving or face plate arrangement. This is done through our Machining workshop
Downloads
Please contact our sales team to discuss your custom requirement for your application.
sales@controldevices.net