INDUSTRIAL JOYSTICK WITH CAN PROTOCOL
The CDJCAN Joystick can be configured with either a single Y axis or dual XY axis.
The CDJCAN can be supplied with 2 extra proportional controls Memory function: Freezing of axis position on keystroke CAN baud rate up to 1Mbytes (Selectable) Zero position detection
Up to 11 pushbutton switches (Standard). Up to 20 available for special orders. Temperature ranges from–40 to +80 °C.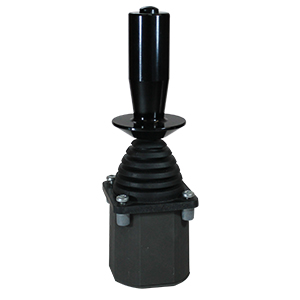 Features
2 Transmit and 1 Receive PDO
Dynamic PDO mapping
Variable point identifier
All CANopen specific PDO transmission types supported
Event timer and inhibit timer features for all transmit PDO
Node guarding, Life guarding, Heartbeat
Variable SYNC identifier
Emergency messages
Minimum boot up
Downloads